"The BEST Massage I've EVER had. I felt like I was lying on a beach in Hawaii, with a Pina Colada beside me! It's such a different experience of massage, nothing like you will ever have had before! Something you HAVE TO experience!"– Maeve Sherlock NOW AVAILABLE here at Oak Tree Holistic Therapies with our very experienced massage therapist Emi Meehan-Lomi Lomi traditional Hawaiian massage!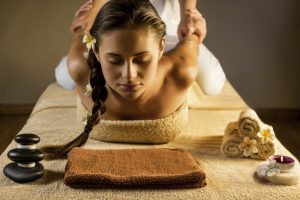 How is Lomi Lomi different to other massages?
Lomi Lomi uses a combination of massage techniques, elements of spiritual intention, breathing and dance to restore and soothe the body. Also called the "loving hands" massage. The massage works gently yet deeply into your muscles with continuous, flowing strokes, allowing the person to relax. The therapist will massage two different parts of body simultaneously, with both the front and underbody massaged at the SAME TIME! This is nothing like you've ever experienced before! Limbs are gently stretched joints are carefully rotated. These techniques are used to free energy flow, which stays within your comfort zone. Hot stones or Bamboo Sticks, can also be used within this massage, to help further relaxation and to release tension. The flowing strokes of massage are made with the therapists fingers, thumbs, palms, forearms and elbows. A combination of oils can be used; coconut oil, calendula massage oil, Jasmine-Yang rejuvenating oil, grape seed oil to keep the strokes smooth and to nourish the skin. This is a FULL body massage; a TOTAL relaxation experience. This massage can be slow and relaxing or fast and more invigorating. Afterward you will feel relaxed and nurtured from top to toe! A SERIOUSLY relaxing massage! Gift vouchers are available for Valentines Day !
VALENTINES MASSAGE SPECIALS
LOMI LOMI INTRODUCTION- ULTIMATE RELAXATION PACKAGE- €90 (Usually €130)
Lomi Lomi massage PLUS facial using natural, nurturing products or LOMI LOMI Plus Indian Head Massage (Approx 2 hours)
LOMI LOMI MASSAGE (stand alone treatment) €75 (Usually €90) (1 hour 20)
Other massage offers for Valentines:
Silver Package: €40 for one or €65 choose TWO! (€80 Voucher Value) Back Neck & Shoulder Massage – 30 mins Indian Head Massage- 30 mins Exfoliating & Relaxing Facial- 30 mins Hopi Ear Candling- 30 mins
Gold Package: 2 Hours -€50 choose one, €85 choose two (€120 Voucher Value)
Option 1: Indian head massage + Hopi Ear candling- Perfect for sinus/ migraine/ tension headache
Option 2: Full Body Deep Tissue Massage & Reflexology
Option 3: Full Body Holistic Massage & Indian Head Massage
Option 4: Hot stone/ Hot Bamboo Massage & Facial Reflexology
Option 5: Lymphatic Drainage Massage & Indian Head
To book, enquire or buy a voucher for YOUR VALENTINE, contact us by email here Oaktreeholistic@gmail.com or text or call Emi on 0868757214.